As of June 3, 2014, below is a summary of indicative pricing across the SREC markets SRECTrade covers (for a PDF copy click here). For June 2014 auction results, scroll down.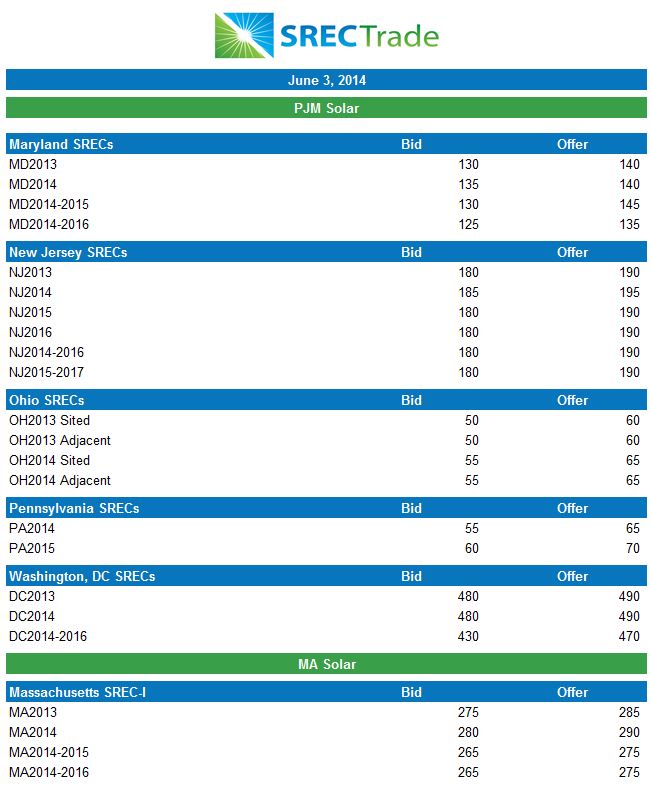 Note: All pricing and notes included are indicative and subject to change. Please contact us for most current markets. If a market is not quoted herein, please contact us directly for further information. 
Additionally, SRECTrade's June 2014 SREC Auction closed on 6/03/2014. The clearing prices presented below are representative of transactions executed through the SRECTrade auction. This does not include over the counter spot and forward contract transactions completed through SRECTrade's brokerage desk. For more information on our brokerage services for corporate clients please click here.
Below are the clearing prices by vintage across the SRECs transacted in the auction.
Auction Prices

SREC Vintage Year

State

2011

2012

2013

2014

Delaware

$65.00

$65.00

$65.00

N/A

Maryland

N/A

$135.00

$135.00

$135.00

Massachusetts

N/A

N/A

$270.01

N/A

New Jersey

N/A

$177.00

$177.00

$181.17

Ohio Sited

N/A

N/A

N/A

N/A

Ohio Adjacent

N/A

N/A

N/A

$45.00

Pennsylvania

N/A

$45.00

$45.00

$45.00

Washington, DC

N/A

$475.00

N/A

$482.00
The next SRECTrade auction for the PJM and MA SREC markets will close on Tuesday, July 15th, at 5 p.m. ET.
This document is the copyright of SRECTrade, Inc. No portion of this document may be photocopied, reproduced, scanned into and electronic system or transmitted, forwarded or distributed in any way without prior consent of SRECTrade, Inc.
Tweet